Merx Myanmar was proudly appointed by Telenor Group to fit out its corporate office in Yangon. Telenor Group is one of the world's largest mobile telecommunications providers, with operations worldwide. The multinational company communicates a strong focus across the Nordics and Asia.
One of ASEAN's emerging economies, Myanmar's economic growth rate has been hovering around 6% consistently the past years. The Myanmar Economic Monitor (Jan 2020 edition), a bi-annual report by the World Bank indicates a resilient economy even in the face of global economic slowdowns. Patterns of growth led by the services sector look to persist, with growth predicted to be driven by investments in communication sectors, transport sectors and planned infrastructure projects.
In Myanmar itself, Telenor Group has moved beyond telecom development. The group has partnered with Yoma Bank, one of Myanmar's largest commercial banks, to enable mobile banking for the country.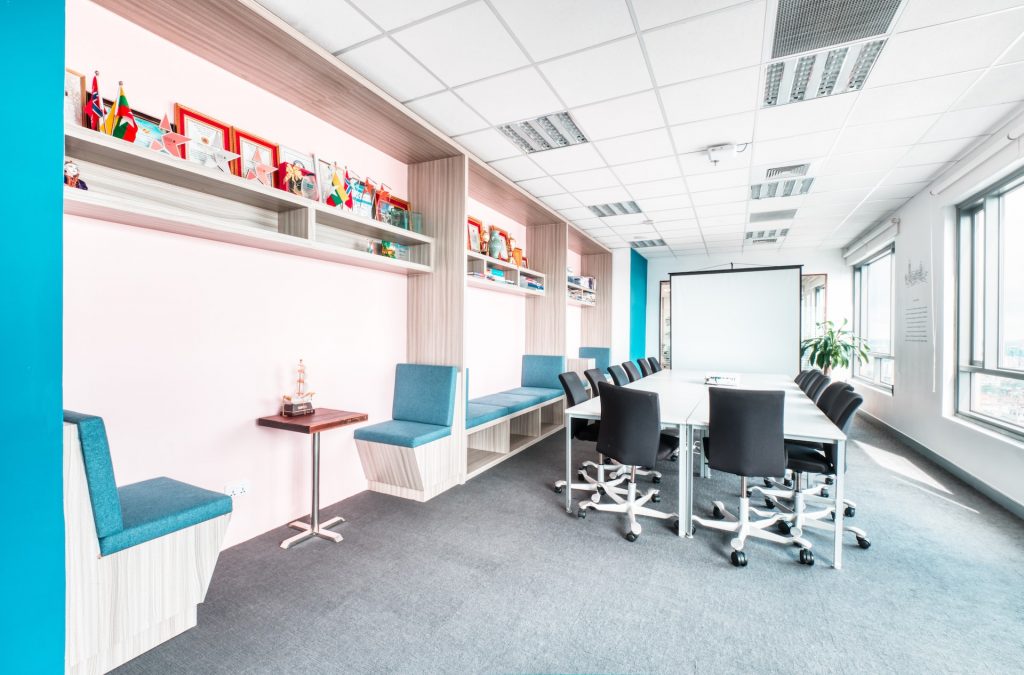 Merx's appointment as Telenor Group's client representative involved us acting as the overall Project Manager, Quantity Surveyor, and to oversee Cost Management. This required Merx to work closely with the appointed design & build contractor, as well as Telenor Group's local Chief Procurement Officer, branding, and facilities management team.
The overarching client brief asked for an agile workplace strategy, with a particular focus on workplace wellness. For interior design, the client opted for simplicity and a functional design that worked within its budget.
"Construction projects in emerging economies always carry their own challenges. Without a solid mastery of project and cost management, strong working relationships with reliable partners, and a thorough understanding of local regulations and practices, it's easy for construction projects to exceed budgets, encounter delays, or even get derailed."
Spanning 60,000 sqft across 3 floors at Sule Square Mall and Office by Shangri-La, the gorgeous workplace was well received by the client.
The office features full windows that showcase a stunning panoramic view of the city skyline with lots of natural light. Beyond aesthetics, presence of natural light has shown to have an added effect of ergonomics for building occupants.
The open office concept enables collaboration and communication, while phone booths with noise isolation made it possible for more private discussions. To enable easy movement across the 3 floors, the concept included an internal staircase built within the office compound itself. In addition, the office walls featured artwork and murals inspired by local culture.
With a particular focus on workplace wellness, standing desks and tables provide ergonomics. Indoor plants reduces stress and improves air quality.
We introduced elements of nature by incorporating greenery, astroturf, and wood-based furniture. Use of long couches, cushions, and cosy furniture added warmth and bestowed comfortable spots for relaxation and informal conversations. 
The new staff canteen encourages interaction and in a relaxing environment, with vantage points facing the city view.
To add life to the corporate space, the large auditorium is specially designed for multipurpose use. It could fit entire teams for large gatherings, informal meetings, but also doubles up as an activities and games room.
With a huge focus across the Nordics and Asia, it's no surprise Telenor Group chose to invest into the region. In Myanmar itself, the eventual office was a new model for workplaces, complementing the telecom giant's forward-looking business perspective.
Merx is glad to render support to the organisation and wishes Telenor Group the best ahead.
For information on the services that Merx provides or to discuss your office requirements please contact: